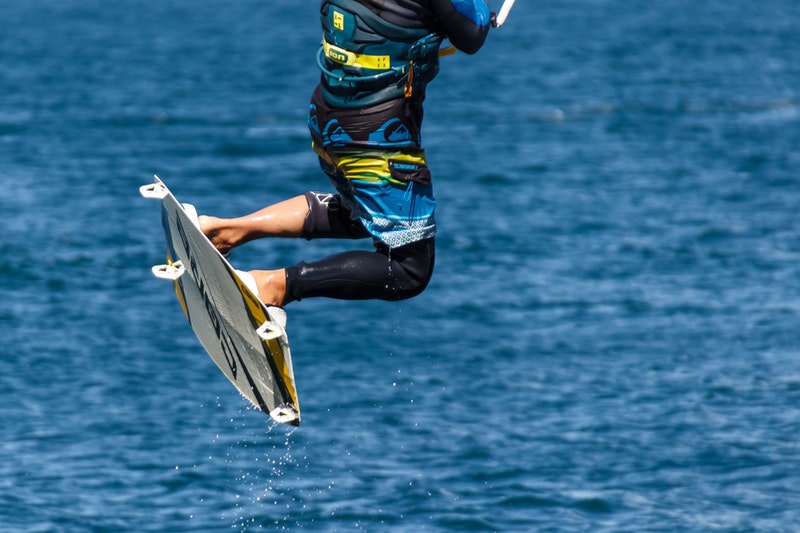 Whether you're a outdoor sports enthusiast, a dabbler, or a full-blown adrenaline junkie, you've likely been trying to fit in plenty of active fun in the sun while the weather permits. For some, this may mean relaxing on the shore of your favorite lake or beach, and for others, it may mean taking advantage of water sport season.
While a great form of exercise during the summer months, like any activity, water sports can be dangerous without necessary precautions. Even if you consider yourself a seasoned pro, it is critical to prepare for the safest possible session on your waterskis, wakeboard, surfboard, jet ski, kayak, or other watercraft.
What to Do Before Hitting the Water:
Water sport injury prevention is just as much what you do outside of the water as what you do in it. Here are a few tips on what to do before you get into the water to save you a world of potential trouble in the future.
Hydration is essential for the body in general, but it is particularly important during exercise and heat, and you'll be experiencing both while out on the water in the summertime. The musculoskeletal system works best when it is hydrated, so drink up to prevent muscle cramping, tears, and strains.
Stretching lowers the likelihood of injury on land and in the water. Do some dynamic warm-ups before practicing any sport, specifically focusing on mobility in the ankles, calves, and neck.
Inspect your gear to double check that everything is functioning as it should be. Rogue binding or loose screws can cause major problems down the line if they go unnoticed.
Make sure your helmet is secure. A good rule of thumb: if you're practicing a sport in which you'd even pause to consider wearing a helmet, you definitely should strap one on. Many people assume that water makes for a softer landing. In fact, water essentially turns to concrete above 15 mph, putting you at high risk for concussions. Wear protective headgear anytime you can, and be sure to replace it after a big fall if necessary.
What to Do While in the Water:
Once you've completed a good warm-up session and secured your protective gear, it's time to play! Just remember to keep your safety in mind at all times, and try not to get caught up in going too hard, too fast. Here are a few things you can do to prevent injuries once you're in — or on — the water.
Choose your surrounding area carefully. Even if you take all the other precautions on this list, your surrounding environment can also cause injuries if you don't scout it carefully. Avoid areas that are overly crowded. While you may know what you're doing, someone else may not, which could result in their injuring you by accident. Know where you're getting in and out of the water, and make sure you verify how deep it is before leaping in.
Pay attention to the weather. Summer weather is often agreeable, but there's always a risk of a summer storm or high winds. Pay attention to what's going on around you, so you don't end up in the middle of a body of water when inclement weather hits. If anything seems off, head for land sooner rather than later.
Be realistic. Know your experience level and practice accordingly. If you're a novice, take it slow and progress gradually instead of rushing ahead several steps. When people try moves they aren't prepared for, injuries tend to occur.
Despite our best planning, accidents can happen — regardless of experience level. If you sustain an injury, even a seemingly minor one, seek treatment from a sports injury expert as soon as possible. Spencer Chiropractic Center has the experience necessary to provide the care you need for recovery… and to get you back into your chosen sport as soon as possible!