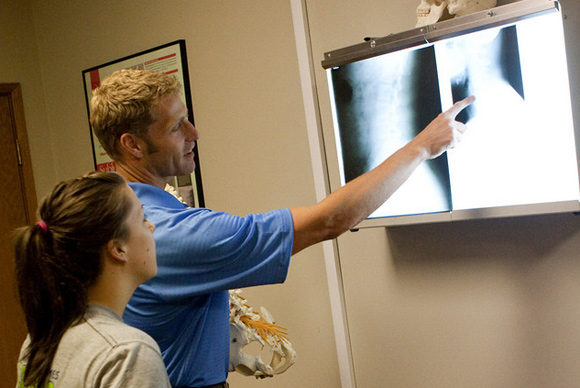 Many people who experience chronic symptoms or discomfort seek chiropractic treatment before they've ever heard the term "subluxation." The issue, while not inherently severe, can have far-reaching impacts on your overall wellbeing and quality of life. Thankfully, a chiropractor can help correct misalignments with manual adjustments, improving the subluxation reducing your symptoms.
What is subluxation?
In the simplest terms, subluxation occurs when one of your back bones, called vertebrae, slips out of alignment. This can put considerable pressure on the disc between vertebrae, on your spinal cord, or on your nerves, resulting in pain, discomfort, and other health issues. A number of different factors can cause subluxation, including poor posture when standing or sitting at work, inadequate spinal support, sleeping position, repetitive motions, sudden trauma, birth, and weak spinal muscles.
Subluxation impacts your nervous system's ability to fully function and regulate your body. When nerves or the spinal cord are pinched or impeded, your health can suffer. Depending on the cause of the subluxation, changes to your lifestyle, including your sleep habits or posture while at work, may be necessary for long-term relief. Chiropractic care can help reduce symptoms while simultaneously improving your posture and alignment.
How subluxation impacts your overall health
Your brain (and by extension, your spinal cord) controls everything in your body. When your spinal cord or nearby nerves are pinched or under pressure, it can affect your health in a variety of ways. Some of the most common symptoms are back and extremity pain and headaches. If untreated, however, a subluxation can intensify and have a profound impact on your overall health.
In some cases, untreated subluxations result in high stress levels, and your immune system is usually the first to take the hit. Decreased immune function, combined with increased pain and mobility issues, can aggravate other issues. Even internal organs can be adversely affected by poor nerve function if the subluxation isn't promptly treated.
As you might guess, even if you don't suffer from a known subluxation, it's important to visit your chiropractor for regular treatment to ensure proper alignment and avoid a world of potential health issues.